So how do you spell it anyway? With or without a h? I looked at an online dictionary and both seem right or am I reading that wrong? Oh well it's yoghurt in my book now!
Recently I made yoghurt in an ordinary thermos flask with fair results. An ordinary yoghurt that you could spoon over cereal and add to cakes etc. So pleased were we that I made up another batch. Um…runny, gloopy sloppy stuff. I'm not impressed. I emailed big sis, Fluffy Red who is very much more of a chef than I am.  I'm thinking that it was made properly with no nasty bugs getting in there. I had a big pan of freshly boiled water with all my utensils in. They weren't boiling but sitting in it for a bit. The yoghurt tasted like yoghurt, not nasty or anything. I then discovered that it had been knocked over and put back during the incubation time. Eeeeeeek! All of those bio-wotsits have had a kick in the head! Not good! I don't know whether that made this batch so runny and wrong, but still, there's room for improvement.
Fluffy Red uses an EasiYo maker for hers. Having bought it at a charity shop a few years ago.
I'm no so lucky as that but I did discover that Lakeland Ltd have theirs on sale, half price….yay….I'm getting one'o them thingies I said to myself. We spend too much money on yoghurt and it's a lot of recycling, excuse or not, I trotted off to town to get one.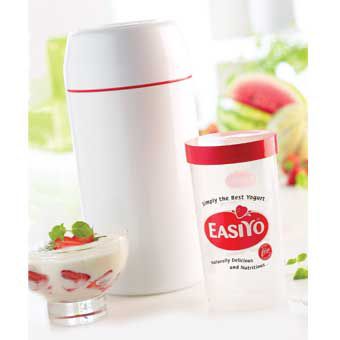 Whilst I'm in the shop, I got talking to a lady who also makes yoghurt with her Easi Yo with just milk and cultures. She said she saved the last tbl sp of made up yogurt (after having made up a packet of easiyo) and made another batch with milk mixed in (Dear lady i'm so sorry that I didn't ask your name and have to refer to you as she or lady. If you do ever get around to reading this, apologies).
So with my new Easi Yo on the go, tapping fingers and saying to myself….must not touch….must not touch….must not touch…I await my first batch. Here it is. Ooooooooh or is that mmmmmm. Delish, even if it is warm! It's into the fridge to set. Eaten later with muesli and fruit, swirled into soup. It's so not like shop bought rubbish. How did I live without this stuff?
Now I'm addicted. So taken with it that I put on another batch and made soft cheese, it tastes exactly like Philadelphia! All I had to do was strain the whey from the yoghurt by putting it in a clean scalded tea towel. From the photo you can see that I put an elastic band around the tea towel and the handle of a wooden spoon. Then let it dangle over a glass jug for a few hours. Thumbs up from us.
Sorry that I forgot to take a pic of the cheese but will follow with one, promise!
If you don't count how much it cost to buy the maker itself, i'm going to be saving by making my own yoghurt and cheese. All I need now is a cow and a few chickens in the garden…nah not really but I really do wish ;-D
Filed under: cooking | Tagged: cooking, easi yo, homemade yoghurt, lakeland ltd, yogurt |